Scone Baking Guide
How to bake your best scones.
1. Work the butter
For the most tender Scones, use very cold butter diced into 1/2" chunks. Work the butter into the flour gently but thoroughly with your hands or a pastry blender. For flakier scones, flatten the chunks with your fingers as you go. The finished mixture should be unevenly crumbly, with some of the butter remaining in larger flattened piece.
2. Bring the dough together
Whisk together the eggs, milk, and vanilla, and pour over the dry ingredients. Using a bowl scraper or spatula, quickly but gently fold everything into a cohesive mass (with perhaps a few floury/dry spots). Avoid over-handling, which makes tough scones.
3. Shape scones
For wedge-shaped scones, divide the dough in half and shape into two 5" to 6" rounds about 3/4" thick. Place rounds on a parchment-lined baking sheet; you'll cut them later. For freeform ("drop") scones, scoop 2" balls of dough onto a parchment-lined baking sheet, spacing them at least 1" apart. For details on both methods, see an easy way to shape scones.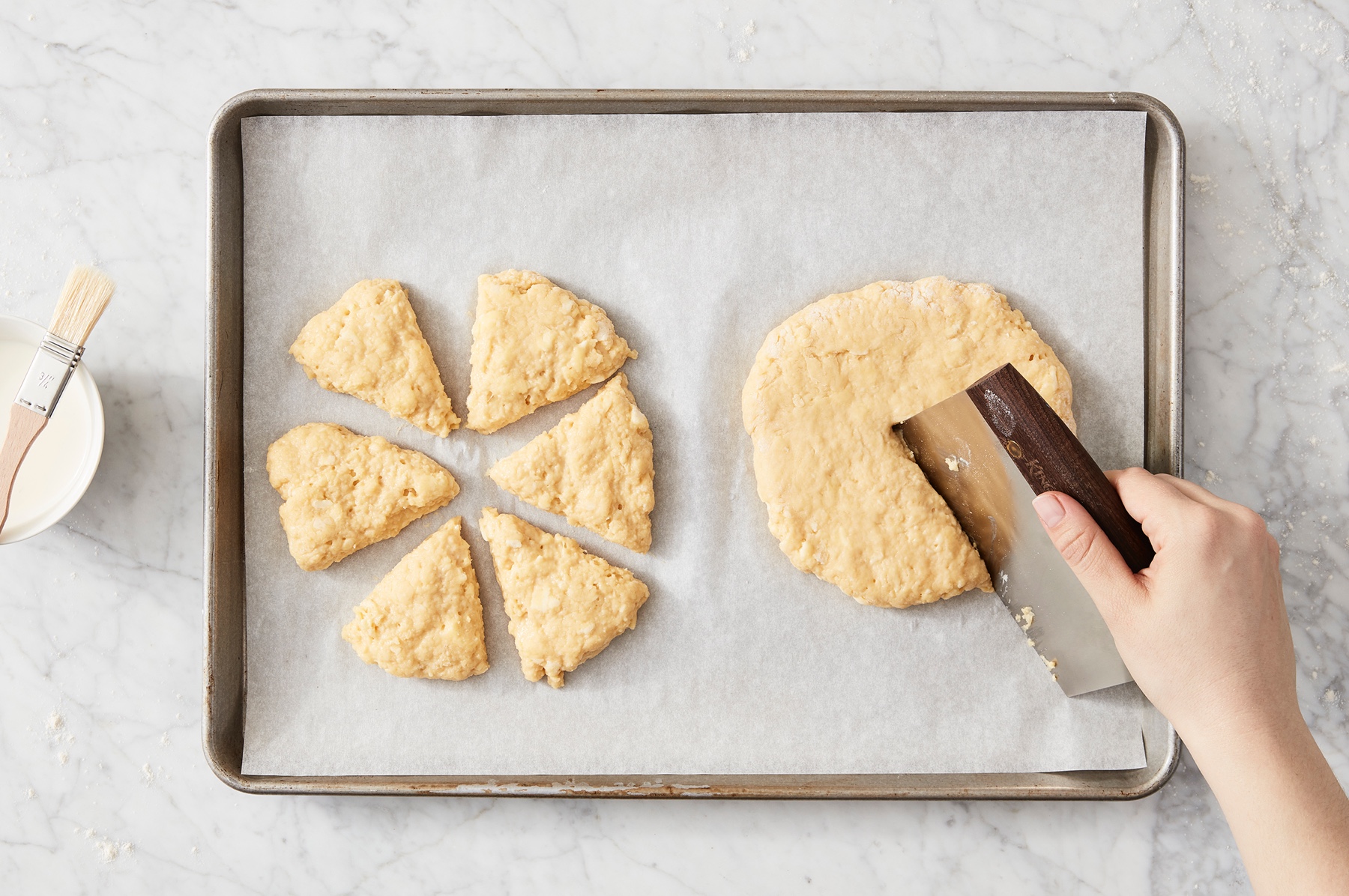 4. Prepare scones for baking
For best browning, brush rounds (or drop scones) with milk or cream before baking. For added crunch and flavor, top with sugar (granulated, turbinado, or sparkling) or cinnamon-sugar. Cut each round into 6 or 8 wedges; a bench knife works well here. For soft-sided scones, leave wedges close together; for crispier scones, separate wedges slightly (about 1" at their outer edge).
5. Bake scones
Bake scones in a 425°F oven for 18 to 23 minutes, until they're a very light golden brown. Don't over-bake; dark scones will be dry. Break one open to check for doneness: the interior shouldn't appear doughy or wet, but should feel nicely moist. Remove scones from the oven and serve warm; or cool completely on a rack before topping with any optional glaze.
Tips
Perfect your scone technique
Ingredient selection
Use all-purpose flour for a higher rising scone that holds its shape nicely, both in and out of the oven. To make more delicate, lower-rising, cake-like scones, substitute cake flour for all-purpose flour. Reduce the liquid in the recipe by 1 to 2 tablespoons, using just enough to bring the dough together.
For scone recipes that don't already call for egg: create soft, muffin-like texture and an open crumb by replacing 1/4 cup (57g) of the liquid in the recipe with 1 large egg.
If you choose to make scones with lower-fat dairy (skim milk, low-fat yogurt), they'll be slightly less tender than those made with whole milk or yogurt, half-and-half, or cream.
For gluten-free scones, replace the all-purpose flour in your favorite scone recipe with King Arthur Gluten-Free Measure for Measure Flour.
Final touches
Brushing scones with milk or cream before baking yields a golden crust. For deeper color and added shine, brush with egg wash: 1 whole egg mixed with 1 tablespoon water and a pinch of salt.
For added sweetness and an elegant look, try this simple glaze: 1 cup (113g) confectioners' sugar plus 2 to 3 teaspoons milk, water, or juice, enough to make a thick but pourable glaze. Drizzle over room-temperature scones.
Enjoy scones in the traditional British fashion by serving with Double Devon Cream or Clotted Cream. Both spreads are made from thickened heavy cream; clotted cream is tangier than double cream.
Time savers
Need to take a short break? Place pan of shaped scones into the freezer for up to 30 minutes before baking. This short rest relaxes the gluten, making scones more tender; and cold chills the fat, increasing flakiness.
Make scone dough up to three days ahead. Shape into 3/4"-thick disks, wrap in plastic, and refrigerate until ready to cut and bake.
To freeze unbaked scone dough, shape into individual drop scones or disks (cut into wedges but not separated). Place on a baking sheet, freeze, remove from baking sheet, and store airtight in plastic. When you're ready to bake, place frozen scones on a baking sheet, and thaw at room temperature for 30 minutes or so, while your oven preheats. Bake according to your recipe directions. For details, read Freeze and bake scones. Mini scones may be baked directly from the freezer (no thawing needed); you may need to increase bake time by 2 to 3 minutes.
Tools
What's in our pantry?
Shop
Our Favorite Scone Mixes